Our Inspiration:
Sweetycon is inspired by the innovation and the beauty of cosplaying! The perfect marriage of various tones and vivid patterns, to form an ecstatic fusion that creates a statement when you put a pair on. Our contact lenses aim to provide that wow factor whilst accentuating your natural eye shape whilst creating depth in one's appearance. It's perfect for your cosplay looks as we use a unique dyeing method to ensure that all of our designs are as accurate and remain vivid throughout from cosmetic to cosplay colored contacts!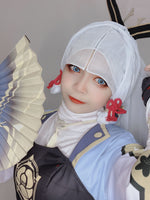 Our Philosophy & Motto:
Motto: Everyone can cosplay!

Mission: We provide a range of innovative vivid contact lenses for your cosplay needs whilst keeping your eyes hydrated and safe. We pledge to continue manufacturing, delivering and distributing high quality and safe colored contacts. We have made our mission to encourage inclusivity and innovation to fit all of our customer's needs and desires from cosplay needs to daily wear!
Vision: We strive to provide the best cosplay contact lenses to bring your favourite characters to life!
Latest Cosplay Contact Lenses
Latest Cosmetic Contact Lenses